Talking Points #5 - Connections (Based on Christensen's "Unlearning the Myths That Bind Us")
S

traightness:
C

hristianity:
Frollo threatening Esmerelda
Christianity is the dominant ideology of religion in America and is one of the hardest to find in Disney Films. This is another ideology that Christensen doesn't really hone in on as much because you really have to study the films carefully to find it. There is only one Disney Film that comes directly to mind when thinking about Christianity playing a critical role in the plot and that movie is The Hunchback of Notre Dame which was released in 1996 during the Eisner Era. The entire plot centers around the so called "outcasts" of Paris that is including the main protagonist Quasimodo and his gypsy friend Esmerelda. The villain, Judge Claude Frollo is an evil man set to assassinate the entire gypsy population because he believes that they embody black magic. In his mind they are anti-christians. What is this teaching, that every individual who practices a different religion, should be targeted? In a way, Frollo himself is a paradox to the plot. He is a self dubbed "righteous" man but his actions contradict that statement. If anyone is anti-christian in the film it would be him. We see him in the beginning of the film kill Quasi's mother, who was also a gypsy. He then is indebted with taking care of Quasi which he didn't want. He's hellbent on killing the entire gypsy population of the present day and he is tempted by the seductiveness of Esmerelda. He is sort of in lust with her.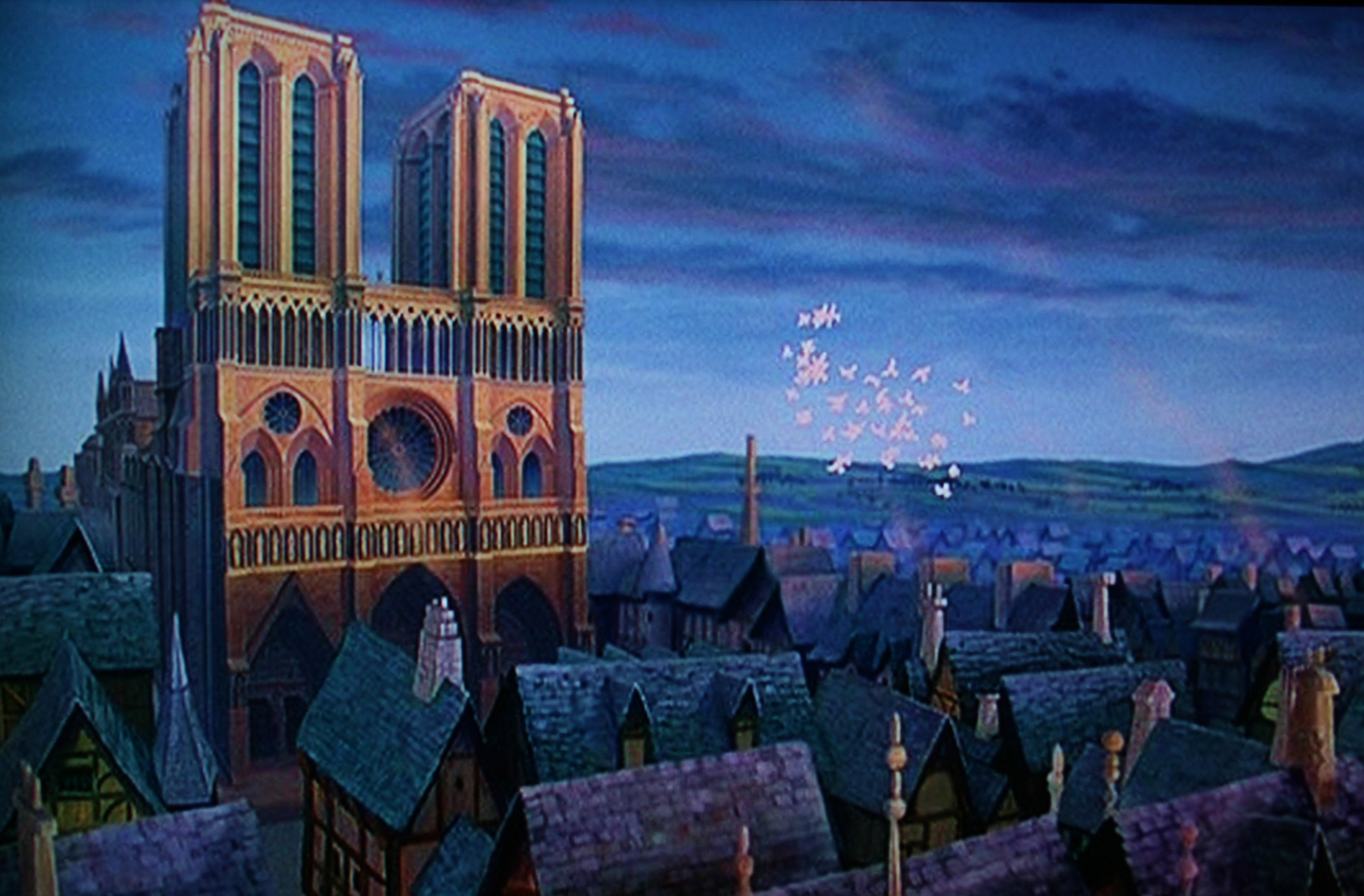 Notre Dame Cathedral
This picture made me chuckle a little bit lol
W

hiteness:
Tiana, Disney's first African American Princess
"A black Cinderella? Give me a break." Christensen is giving an account of one of her student's thoughts on the lack of black heroines in Disney films. This student who's name is Kenya goes on to say the following as well, "Women who aren't white begin to feel left out and ugly because they never get to play the princesses. This is another major problem that has been reinforced in Disney's Animated Classics for years now. Snow White and the Seven Dwarfs was Disney's first animated classic and was released in 1937. Since that time there have been more than fifty Disney animated films produced and only one showcasing an African American as the lead. The Princess and the Frog was released in 2009 with it's first black Princess named Tiana. I believe it was long overdue; 72 years since Disney's first princess. It's essential to incorporate everyone because when you marginalize certain groups it really does have a significant impact. It was fair that black children couldn't relate to the heroines/princesses. It's not just black kids, it's for every non-white child out there that feels excluded.
A

blebodiedness:

"My waist didn't dip into an hourglass; in fact, according to the novels I read my thick ankles doomed me to be cast as the peasant woman reaping hay while the heroine swept by with her handsome man in hot pursuit." Christensen has a lot to say about ablebodiedness in this text. Disney heroines/princesses are expected to fit the Americanized idea of beauty. They need to be unrealistically slender and they need to exude some sort of charm. Only pretty skinny girls get to be princesses! This is the message that is being sent and I think it's disgusting because beauty comes in all shapes and sizes. To insinuate that only pretty girls get a happy ever after is very destructive to the psychology of little girls watching these films. They start to constantly compare themselves to these characters and start becoming self conscious of their bodies. "When women do appear, they look like Jessica Rabbit or Playboy Centerfolds" (Christensen 130).
A

mericanness:

One Disney Classic that comes to mind, while thinking of society favoring Americanness is Lady and The Tramp. It's very subtle but I feel like there is some merit behind my philosophy. From my perspective, the two Siamese Cats are a symbol that oppresses the oriental community. Before, I state my reasons for my claim, I must provide you with some background information that will hopefully enlighten you about the claim I'm to make. In 1882, this country constituted The Chinese Exclusion Act that lasted until December 17th, 1943. This act prevented any Chinese or Oriental person from gaining citizenship into the country. When these said people tried to come to America to chase the American Dream they were sent and imprisoned at a place called Angel Island, which was like a cross between Ellis Island and Guantonomo Bay. This was the first time in American History that one Ethnic group was refused entry into the country. Walt Disney was born in 1901 and lived in the country while the Exclusion Act was in effect. Lady and The Tramp was released in 1955 but began production a few years before.

Going back to the Siamese Cats in The Lady and the Tramp, they are presented as two menacing and evil characters. They are the pets of Aunt Sarah who also a very mean character in the film. These two Oriental cats are literally confined to Aunt Sarah's carrying basket and are only seen when she leaves. Once they are out of the basket they release their hell on poor Lady who in the end gets blamed for all their wrong doings. When the Chinese were sent to Angel Island they were literally imprisoned in cell for numerous years and put to work for a country they weren't citizens, but prisoners for. So that basket that those cats are in are like the cell confining them. Look what happened when they escaped, they caused trouble for the pure bread American girl, Lady. Maybe I'm reading too much into it but I think it's subtly defaming the Oriental community.

"I don't want students to believe that change can be bought at the mall, nor do I want them thinking that the pinnacle of a woman's life is an "I do" that supposedly leads them to a "happily ever after." Christensen actively takes a stance on how maleness is a prominent ideology in society. When topics arise in the classroom of making the princess black or of a different ethnicity, Christensen doesn't believe that will fully eliminate other problems. She then uses the cartoon Popeye again to show how women are the submissive stereotype in most cartoons and that the man is the one that saves the day.

VS.

It was also brought up how the women in the Disney Film is always willing to give her life up for the man. Almost every Princess leaves her life behind to start a new one with her man. Why do women have to give up their lives in order to appease their suitors. In The Little Mermaid, Ariel gives up everything her whole life under the sea just to be with a man. She had to grow accustomed to a whole new way of life just so that she could be with him. This shouldn't be a message that young girls are receiving.
Ariel willing to give up her life!
P

roperty Ownership:
Snow White's Castle
This one is kind of obvious in Disney Films. Property ownership plays a significant part in most of Disney's animated classics. If you look at the features that contain Princess and Princes such as Snow White, Cinderella, Little Mermaid, and Beauty and the Beast you see that property ownership plays a significant part. The same message is being put forth in all of these films, that you need to find a man that's filthy rich, that has a high social class, and that owns a lavish mansion, in order to live happier ever after. If the heroines are not already heir to their own family fortunes, they end up attaining some type of fortune by the end of film, most typically when they meet their "prince charming." Is money really that important? I don't like this message that Disney is implying through children's movies because the idea of meeting the man of your dreams and whisking away to his mansion in a fairy tale land, is pretty convoluted. Money isn't synonymous with happiness.
Castle in Beauty and The Beast
Do you think that movies really have a huge impact on children? Do children really absorb these subtle messages and the ideologies of society they represent? Is there anything that parents can do or say to their children while watching these beloved classics or should the movies just not be watched anymore? I personally feel that Disney needs to take bigger "risks" and and try to relate to everyone to avoid marginalization.